Halloween...putting my two cents in to say I love it. My blogging tribute to this fact is to participate in
Boo-fest
hosted by Quinn and Patricia.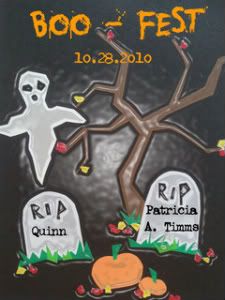 We're supposed to share true ghost stories. Mine isn't worth telling around a campfire late at night, but it is totally unexplainable, at least by the accepted rules of reality as it stands right now.
It happened when I was in fifth or sixth grade. I had a slumber party, and my mom introduced something none of us had seen before: A Quija Board.
Now, I wouldn't know that this thing was supposed to be evil or help people contact spirits until many years later. My young self and my friends mainly asked it things like how many boys liked us and who we would marry (Chris Fields, never met him).
But that night, that first night, Mom picked two of my friends at random and set them cross legged in front of each other. She told them to put their fingers on the plastic platform with the window in it and ask the board how many kids she had. The platform moved directly to five. But that was wrong, we all said. She only had two kids. Mom said nothing, just directed two more of my friends to sit down and repeat the process. The board said five again. Then my mom revealed, "I had three miscarriages before I had Jennifer." She was the only one in the room who knew that fact.
Okay, so you won't lose any sleep tonight over this one, but it did really happen. I was there.