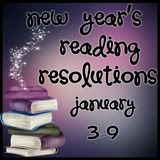 So, I used an old-fashioned randomizer (slips of paper in a cup) to pick the winners of my giveaway.
For ETERNAL ONES:
Lydia K
For INTERTWINED:
Karla Nell
For PERFECT CHEMISTRY:
Alicia Gregoire
And for FLIGHT:
Kate
Thanks everyone for participating. I still have plenty of books left from Book Expo last year, so keep in touch for another giveaway...let's say, the beginning of next month.
In fact, I'll make a monthly giveaway one of my Writer's New Year's Resolutions. Along with:
-Make it to 500 Followers
-Foster and maintain my crit partners (sorry I've been MIA lately guys!)
-Finish my WIP and another book
-And, of course...Get Published!!!
What about you? Any writer's or regular resolutions to share?