If you're here from
Reading Angel's New Year's Resolutions Giveaway
, I plan to post mine on Wednesday. But go check out all the other giveaways...over one hundred bloggers participating this week. I haven't finalized my prizes yet, but I have a copy of THE ETERNAL ONES, INTERTWINED, PERFECT CHEMISTRY and and audiobook of Sherman Alexie's FLIGHT on my desk right now eager to be mailed out.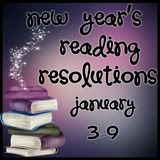 So...Happy New Year Everyone!
I know, It's January. 2011. I shouldn't be looking back...or I should be looking back on the whole year. Instead, I'm just posting my December Audiobooks.
I had twelve total...pretty good since I was traveling for the holidays one week and read more than listened to books then.
Here are my YA/MG books:
I also read five adult books. My favorite nonfiction this month was:
This collection of interesting stories isn't my favorite by Malcolm Gladwell, but I still enjoyed it. If you're not into random, ponderable topics, I'd recommend trying TIPPING POINT and/or BLINK first.